Fabry disease is a progressive genetic condition that causes multiple health problems. Fabry disease occurs when a person's body does not make enough of an enzyme called alpha-galactosidase A (alpha-Gal) due to changes or mutations in the GLA gene. When alpha-gal is not working, substances called glycolipids build up in the body's lysosomes (the "recycling centers" of the cell). This storage leads to narrowed blood vessels, inflammation, and health problems all over the body, particularly in the skin, kidneys, heart, brain, intestines and nerves.
Fabry disease is commonly divided into two types, "classic" and "non-classic" or "later onset." Both men and women can have classic and non-classic Fabry disease. The type of Fabry disease often determines the age symptoms start, the organs affected by the disease, how fast the disease progresses, and how severe symptoms become. Classic Fabry disease symptoms in males and females typically start in the first 2-10 years of life with the onset of burning pain in the hands and feet, decreased sweating, problems in the heat, a reddish-purplish rash, and gastrointestinal issues such as diarrhea, bloating, pain and constipation. Without treatment, the classic form of the disease progresses into kidney disease, heart disease, and increased stroke risk between the ages of 20 to 45. In non-classic Fabry disease, symptoms may start somewhat later in life and may more severely affect one organ like the heart or kidneys. In non-classic Fabry disease, heart disease and other symptoms still occur earlier than average in men than women so it is important to monitor the heart, kidneys, and brain from the time of diagnosis with Fabry disease. In both classic and non-classic Fabry disease, symptoms always worsen over time.
Inheritance of Fabry Disease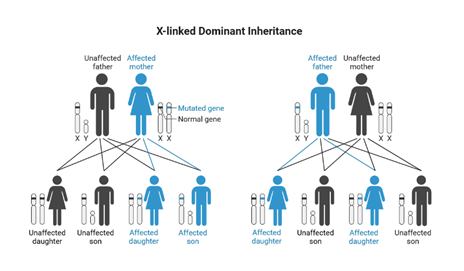 Fabry disease is passed through families in an X-linked inheritance pattern, meaning the GLA gene that causes Fabry disease is located on the X-chromosome. Women have two copies of the X-chromosome (XX) and men have one copy of the X-chromosome and one copy of a Y-chromosome (XY). If men inherit an X chromosome containing the non-working GLA gene, they are unable to produce working alpha-Gal enzyme. Without alpha-Gal, GL-3 builds up in the body and causes the symptoms and health problems of Fabry disease. On the other hand, if women inherit an X chromosome with a nonworking GLA gene, they can have a second X-chromosome with a working GLA gene that can produce alpha-Gal enzyme in some cells of their body. How many cells are able to produce alpha-Gal enzyme in a specific woman depends on X-inactivation, the process by which one of the copies of the X chromosome is turned off in a specific cell before birth. The more X-chromosomes with working GLA gene are turned on, the more enzyme in those cells.
In Fabry disease one copy of the mutation/change in the GLA gene is enough to cause the condition. Females with a mutation on one X chromosome are affected and males with a mutation on their only X chromosome are affected. The children of an affected female, whether male or female, have a 50% chance of being affected. When a male is affected with an X linked dominant condition all of his daughters will have the condition but he will not pass along the gene change to his sons. There is no male to male transmission of an X linked dominant condition.
In the past, it was believed that women who were "carriers" would not have Fabry-related health problems because they had a normal second copy of the gene. However, it is now known that women are not just carriers, and they can and do have Fabry-related health problems. In some cases, women can have health problems as severe as their male relatives. Since women who carry one copy of the non-working gene can have symptoms of Fabry disease, it is important that they discuss Fabry disease with their doctor and obtain appropriate referrals to monitor their health.
Testing for Fabry Disease
The best way to start testing for Fabry is by testing the level alpha-galactosidase A (alpha-gal) enzyme in the blood. If low or missing alpha-gal levels are found, the next step is to identify a disease-causing mutation or change in the GLA gene by gene sequencing analysis to confirm a diagnosis of Fabry disease. Many women with Fabry disease can have normal levels of alpha-Galactosidase A enzyme so it is important for women to have the GLA gene sequencing to establish a diagnosis.
If an individual with health problems suggestive of Fabry disease and/or has low alpha gal enzyme levels with normal GLA gene sequencing results, then there is an additional test called deletion/duplication testing that can pick up missing or added information in the GLA gene that can be missed in normal sequencing genetic testing.If there is a known GLA gene mutation in the family, a person at risk for Fabry disease in that family can have testing for that specific GLA gene mutation.
Treatment for Fabry Disease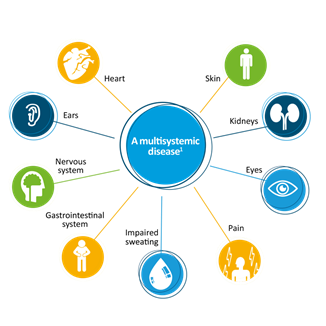 In the United States, the only available FDA approved ERT is Fabrazyme (also called agalsidase beta). Outside of the United States, many countries have approved the use of Fabrazyme® and Replagal (agalsidase alfa) for treating Fabry disease. Enzyme Replacement Therapy (ERT) is a specific medication made to replace the normal enzyme that is missing in a person with genetic conditions.
Migalastat or Galafold® is a chaperone therapy pill taken every other day to treat Fabry disease. Migalastat is designed to work on the body's natural alpha-galactosidase A enzyme by helping make the misfolded enzyme more stable and chaperoning it to the lysosome to do its job. The enzyme should then be able to break down stored glycolipids and prevent them from being stored in cells within the body. Based on studies that look at the gene changes or disease-causing mutations in people with Fabry disease,about 60% of individuals with Fabry disease have amenable mutations which means they are responsive to treatment with migalastat and the drug may be an option for them to treat Fabry disease.
Early intervention with enzyme replacement therapy (ERT) or chaperone therapy offers the best protection against the complications and health problems related to Fabry disease. In adults, this means beginning ERT or oral therapy as soon as Fabry disease is diagnosed. In children with Fabry disease, the decision to begin therapy is based on the symptoms that they have and discussions of the risks and benefits of ERT with your Fabry disease specialist.
Fabry Disease Research
Treatments are being studied to address the underlying causes of Fabry disease that may someday lead to a cure or at least put the disease "into remission". These treatments include gene therapy, which could add or replace the non-working GLA gene in Fabry patients and help the body make its own alpha-galactosidase A enzyme. Other research includes a gene editing technology called CRISPR that would act as a "spellcheck" and correct the changes or mutation in the non-working GLA gene to a working one. For the most up-to-date list of ongoing clinical trials, please visit clinicaltrials.gov
Fabry Resources
There are also online communities for rare disorders, such as
Last Updated: 04/21/2022 by Amy Rickheim