Hereditary Angioedema (HAE) is a rare genetic disorder that causes repeated episodes of swelling similar to what is seen in an allergic reaction; however, unlike an allergic reaction, with HAE, there is usually no skin rash, hives, or itching. The swelling can occur anywhere but is most commonly seen in the face, hands, feet, eyelids, lips, tongue, and the lining of the gastrointestinal tract. Less often, swelling can also affect the throat or upper airways; these episodes can sometimes cause life-threatening complications. The symptoms of hereditary angioedema are highly variable-even within the same family. Some people may only have very few episodes or symptoms, while others have repeated, severe swelling attacks. Episodes usually last 2-5 days and go away on their own without treatment.
Like many rare disorders, hereditary angioedema (HAE) often goes unrecognized or misdiagnosed. Like many other rare diseases, the time it takes to receive an accurate diagnosis of HAE can take many years.
Inheritance of Hereditary Angioedema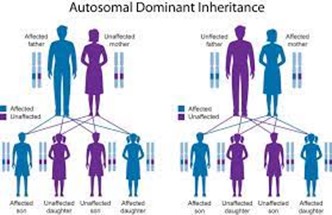 Hereditary angioedema (HAE) is inherited in an autosomal dominant manner and is caused by a change in the SERPING1 gene. Both types of HAE caused by mutations in the SERPING1 gene are the same clinically speaking. There are also rare instances when mutations in other genes in the inflammatory response are thought to be causative of the condition.
We have two copies of every gene – one from our mother and one from our father – for a dominant condition; only one of the genes needs a change or mutation for a person to have the disease. If a parent carries an altered SERPING1 gene, they have a 50% chance of passing the affected gene to their offspring, regardless of gender. This also means a 50% chance that an affected parent would not pass this on to their children. When a dominant disorder is passed down through a family, generations of affected individuals are typically affected.
In hereditary angioedema, a change in the SERPING1 gene leaves affected individuals without enough of a functioning protein needed in an inflammatory response in the body. The specific symptoms that result from the missing protein depend upon what areas of the body are affected during an episode. HAE can affect people very differently.
About 25% of the time, when a person receives a diagnosis of HAE, there is no previous history in a family. In this situation, the altered gene occurs randomly, most likely after fertilization. This is called a de novo mutation. The altered gene in the child will be passed on as an autosomal dominant trait. In families with a child with a de novo mutation, the likelihood of having another child with the disorder is extremely low.
Testing for Hereditary Angioedema
NEED INFO
Treatment for Hereditary Angioedema
For many years, treatment options for individuals with HAE were limited, and the therapies had notable adverse effects, less than ideal efficacy, or challenging routes of administration. There are currently eight FDA-approved medications available to treat HAE. Some drugs are taken to prevent episodes, and others are taken during an acute episode.
Hereditary Angioedema Research
There are currently 10+ new therapeutic agents in various stages of clinical trials that have the potential to dramatically change the treatment options for individuals affected by hereditary angioedema. For the most up-to-date list of ongoing clinical trials, please visit clinicaltrials.gov.
Hereditary Angioedema Resources
Last Updated: 04/21/2022 by Amy Rickheim